Chongmin Wang Co-Recipient of Innovative Materials Award
(March 2016)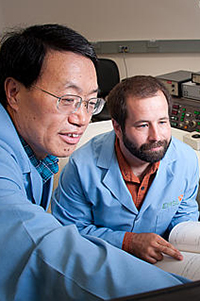 Chongmin Wang (foreground), co-recipient of the 2016 Innovation in Materials Characterization Award
The Materials Research Society, or MRS, selected Chongmin Wang from Pacific Northwest National Laboratory and his peers Niels de Jonge with Leibniz Institute for New Materials and Frances Ross with IBM T.J. Watson Research Center to be the co-recipient of the 2016 Innovation in Materials Characterization Award.
The award honors outstanding advances in materials characterization that notably increase knowledge of the structure, composition, in situ behavior under outside stimulus, electronic behavior, or other characterization feature of materials.
According to the announcement letter from MRS President Kristi Anseth, the MRS board of directors selected the three scientists from a large group of extraordinary nominees "for seminal contributions to the imaging of specimens in liquids using transmission electron microscopy, revolutionizing the direct observation of materials processes, batteries during operation and biological structures."
With the support of PNNL Chemical Imaging Initiative, Wang and his team have been developing in situ and operando transmission electron microscopy probes for studying energy materials under operating conditions. Their work has revealed the mechanism by which batteries fade and eventually fail, providing information that can feed back to materials design for tailoring and discovering new materials for energy storage.
The award will be presented during the 2016 MRS Spring Meeting to be held March 28 to April 1 in Phoenix. The awardees will deliver a presentation for this award at the meeting.