2014 PNWAVS Symposium To Be Held in Conjunction with PREMIER Network Meeting
(July 2014)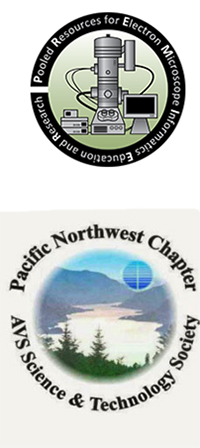 The 2014 Symposium of the Pacific Northwest AVS Science and Technology Society will be held with the PREMIER Network meeting, September 16-19, 2014, in Richland, Washington State.
The 25th Annual Symposium of the Pacific Northwest AVS Science and Technology Society will be held in conjunction with the Pooled Resources for Electron Microscopy Informatics Education and Research, or PREMIER, Network meeting on September 16-19. The meeting will be held at EMSL in Richland, Washington.
This joint symposium will include one day of free tutorials and three days of invited and contributed sessions that include talks and poster presentations. A vendor and equipment exhibit will be held during the symposium on September 17 and 18.
Invited speakers include
Ilke Arslan, Pacific Northwest National Laboratory
Len Feldman, Rutgers University
Paulo J. Ferreira, The University of Texas at Austin
Alexander Chess Gagnon, University of Washington
Dan Graham, University of Washington
David Ji, Oregon State University
David W. McComb, Center for Electron Microscopy and Analysis
You Qiang, University of Idaho
John Roberts, Pacific Northwest National Laboratory
Masashi Watanabe, Lehigh University
Hui (Claire) Xiong, Boise State University
The call for abstracts has been extended until August 15. Contributed papers may be presented orally or as a poster; please state your preference when submitting the abstract. Submit abstracts via email to the Conference Chair Mark Engelhard at mark.engelhard@pnnl.gov.
Meeting registration opened June 1. Registration is $125, $30 for students, if received by Sept. 5, and $150 onsite, $40 for students. The registration form can be downloaded from PNW AVS Chapter website. Contact Barbara Diehl, barb@pnnl.gov or 509-371-6453, if you have any questions about registration.
Visit the PNWAVS website for more information about the symposium.