Superbright and Fast X-rays Image Single Layer of Proteins
Newest method for determining a protein's shape based on XFEL technology significantly broadens number and type of proteins that researchers can study
(February 2014)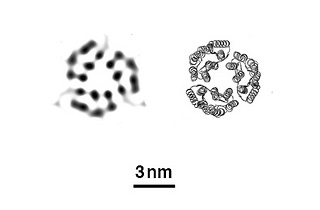 Caught by XFEL: X-ray free-electron lasers can create images (left) that accurately reflect the known structure of proteins determined by conventional methods (right), in this case, three bacteriorhodopsin proteins.
Enlarge Image
.
Results: In biology, a protein's shape is key to understanding how it causes disease or toxicity. Researchers who use X-rays to take snapshots of proteins typically need a billion copies of the same protein stacked and packed into a neat crystal. Now, scientists using exceptionally bright and fast X-rays can take a picture that rivals conventional methods with a sheet of proteins just one protein layer thick.
Using an X-ray Free-Electron Laser, the technique opens the door to learning the structural details of almost 25 percent of known proteins, many of which have been overlooked because of their inability to stack properly. The team of researchers led by the Department of Energy's Pacific Northwest and Lawrence Livermore National Laboratories report their results with this unique form of X-ray diffraction in the March issue of the International Union of Crystallography Journal.
See the entire news release at http://www.pnnl.gov/news/release.aspx?id=1038
Acknowledgments:
Sponsors: Support was provided by the University of California Office of the President Lab Fee Program, the National Institutes of Health, the National Science Foundation, LLNL's Laboratory Directed Research and Development, and PNNL's Chemical Imaging Initiative.
User Facility: Linac Coherent Light Source (LCLS)
Research Team: James Evans, PNNL & UC Davis; Matthias Frank, Mark Hunter, Henry Benner, Alexander Graf, Stefan Hau-Riege, Tommaso Pardini, Brent Segelke, and Matthew Coleman, LLNL; David Carlson, UC Davis; Garth Williams, Marc Messerschmidt, Marvin Seibert, and Sebastien Boutet, LCLS; Nadia Zatsepin and John Spence, Arizona State University; Anton Barty and Richard Kirian, University of Hamburg; Kaiqin Chu and Stephen Lane, Center for Biophotonics; Celestino Padeste, Bill Pedrini, Ching-Ju Tsai, Xiao-Dan Li, and Gebhard Schertler, Paul Scherrer Institute.
Research Area: Chemical Imaging
Reference:
Frank M, DB Carlson, M Hunter, GJ Williams, M Messerschmidt, NA Zatsepin, A Barty, H Benner, K Chu, A Graf, S Hau-Riege, R Kirian, C Padeste, T Pardini, B Pedrini, B Segelke, MM Seibert, JC Spence , CJ Tsai, SM Lane, XD Li, G Schertler, S Boutet, MA Coleman, and JE Evans. 2014. "
Femtosecond X-ray Diffraction From Two-Dimensional Protein Crystals
." International Union of Crystallography Journal. DOI: 10.1107/S2052252514001444