Delivering New Capabilities for In Situ, Molecular-Scale Imaging
Frequently used in sensors, these small devices are helping scientists obtain chemical images of delicate liquids
Just a few drops of liquid or a bit more is run past specialized sensors in microfluidic devices to detect chemicals of concern to doctors and security personnel. However, these imaging devices are now being reinvented for use in scientific instruments to answer fundamental questions, according to a review written by Xiao-Ying Yu, Bingwen Liu, and Li Yang, Pacific Northwest National Laboratory, and funded by PNNL's Chemical Imaging Initiative. The review appears online in Microfluidics and Nanofluidics.
(May 2013)
---
Kleese van Dam Authors Book on Data-Intensive Science
Congratulations to Kerstin Kleese van Dam on the upcoming release of Data-Intensive Science by CRC Press. Kleese van Dam co-authored the book with Terence Critchlow. Kleese van Dam leads the data thrust area for the Chemical Imaging Initiative at Pacific Northwest National Laboratory. In this 446-page book, Kleese van Dam and Critchlow examine different perspectives on the challenges that science is facing due to rapid increases in data volumes and complexities. They provide numerous case studies that highlight best practices in conducting data-intensive science. Also, they discuss potential future solutions that enable scientific discovery against a background of continually increasing data generation and data heterogeneity. The book is another in a series of publications that show PNNL's ongoing commitment to engaging and leading the data-intensive science community.
More information on the book is available at http://www.crcpress.com/product/isbn/9781439881392
(May 2013)
---
The Multimodal Analysis and Integration Framework for Chemical Imaging lead at Pacific Northwest National Laboratory, Dr. Kerstin Kleese van Dam wrote about the need for in-situ management and analysis of massive experimental data sets in Datanami. The Rapid Experimental Analysis Framework and Component Library, REXAN, is discussed. Developed through the Chemical Imaging Initiative, REXAN provides a library of analytical components for essential actions, including compressions, feature detection and visualization. In the future, Kleese van Dam expects to see a publically available REXAN repository with open-source and proprietary components that allow scientists to build near-real-time analysis tools.
(April 2013)
---
Scientists show what it takes to get the potential fuel feedstock to a reactive spot on a model catalyst
In extreme cold, carbon dioxide huddles near charged oxygen atom outcroppings on the surface of titanium dioxide; the carbon dioxide lacks the energy to reach a more protected spot, according to scientists at the Chemical Imaging Initiative at Pacific Northwest National Laboratory. When heated, the carbon dioxide slides into a more substantial, reactive oxygen vacancy, a hole left by a missing oxygen atom. Why the interest in carbon dioxide's preferences regarding oxygen vacancies? Replacing gasoline with fuels built using carbon dioxide and solar energy could greatly increase our nation's energy independence. Determining the barriers to getting carbon dioxide into the catalyst's oxygen vacancies, where the reactions often occur, is a fundamental step in creating the needed materials for solar fuels.
(April 2013)
---
Congratulations to Dr. Nigel Browning, Chief Science Officer at PNNL's Chemical Imaging Initiative, on being selected a Fellow of the Microscopy Society of America. Browning received this honor for his advances in scanning transmission electron microscopy, and for developing spatial, temporal and spectroscopic techniques to better understand foundational issues in physical and life sciences. Browning joined PNNL in 2011 with the goal of making DTEM, which requires the samples to be in a vacuum, work at normal pressures and temperatures.
(March 2013)
---
Novel chemical imaging instrument shows how bacteria support diverse, nearby colonies
Using Nanospray Desorption Ionization Electrospray Mass Spectrometry, scientists in Pacific Northwest National Laboratory's Chemical Imaging Initiative profiled, for the first time, the chemicals emitted by cyanobacteria Synechococcus sp. PCC 7002. Understanding microbial ecology could provide basic answers needed to advance sustainable energy.
(March 2013)
Dr. Julia Laskin and Dr. Alexander Laskin at Pacific Northwest National Laboratory and Dr. Sergey Nizkorodov at University of California, Irvine wrote a comprehensive review of new mass spectrometry techniques to analyze miniscule, rapidly evolving atmospheric particles that affect the climate and human health. The invited review article graced the January to March 2013 cover of International Reviews in Physical Chemistry and appears on the journal's most read list. The writing of this review was funded by PNNL's Chemical Imaging Initiative.
(March 2013)
---
Dr. Nigel Browning, Chief Science Officer for the Chemical Imaging Initiative at Pacific Northwest National Laboratory, discussed the latest in imaging research at the American Association for the Advancement of Science annual meeting. Browning's talk focused on new quantitative measurements of the nucleation and growth of nanoparticles from solution.
(February 2013)
---
Using chemical imaging techniques, scientists at with Pacific Northwest National Laboratory's Chemical Imaging Initiative proved for the first time that titanium dioxide's surface defects shelter chemicals from decays caused by ultra-violet light. The defects are tiny gaps created when oxygen atoms are missing from the surface of this popular catalyst. Conventional wisdom says the vacancies are more active than the surface. The team showed the opposite is true for photooxidation. The carbon-based carboxylic group, trimethyl acetate, remains intact if bound in the vacancies while it readily decomposes at regular, or non-vacancy, sites on the surface.
(February 2013)
---
Congratulations to Dr. Julia Laskin, Pacific Northwest National Laboratory Chemical Imaging Principal Investigator, on being selected as a Wiley Research Fellow. Laskin was chosen because of her strong contributions to the Department of Energy's EMSL, a national scientific user facility. The Wiley Research Fellows program recognizes scientists who make significant contributions to EMSL outside of their individual research efforts.
(February 2013)
---
Using an aberration-corrected transmission electron microscope, scientists at Pacific Northwest National Laboratory, including researchers with the Chemical Imaging Initiative, and FEI Company obtained ultrahigh-resolution images and chemical data about the surface of gamma-alumina particles. By understanding the structure of these nanoparticles, scientists are taking crucial steps to optimizing catalysts to reduce refineries' energy demands and vehicle emissions.
(January 2013)
---
Starting as a few atoms long, thorns forming on the electrode's surface in a specialized lithium battery cause the battery to gradually fade, according to scientists working on the Chemical Imaging Initiative at Pacific Northwest National Laboratory and their collaborators at Argonne National Laboratory. The cause is a change in the composite, but how and where the transformations or phase transitions occur was under debate. By taking and analyzing atomic-resolution images of the battery's electrode before and after use, the team answered the questions.
(January 2013)
---
Late September 2011, the workshop on Compact X-ray Light Sources was held at the Environmental Molecular Sciences Laboratory at Pacific Northwest National Laboratory. The goal of this workshop was to identify the scientific grand challenges that would benefit from innovative compact x-ray light source techniques. For this workshop, we focused on challenges in biology, biogeochemistry and environmental science, chemical sciences (with an emphasis on catalysis), and materials science that connected with the Department of Energy's missions. Based on the knowledge gained through this workshop, we prepared a document that summarizes the scientific and technological challenges and how they could be addressed through a compact x-ray light source facility. Enjoy!
(January 2013)
---
Congratulations to Dr. Wayne Hess at Pacific Northwest National Laboratory on being named an American Physical Society Fellow. Hess distinguished himself for outstanding research contributing to understanding the dynamics and reactions of electronically excited crystalline solids and laser desorption of atoms and molecules. Specifically, he is known for detailed characterizations of the photoreactivity of solids and interfaces in processes relevant to catalysis, photochemistry, and nanoscience. (December 2012)
---
Congratulations to Dr. Nigel Browning, Chief Science Officer at Pacific Northwest National Laboratory's Chemical Imaging Initiative, on being named a fellow of the American Association for the Advancement of Science. Browning received this honor for his work in electron microscopy. Browning has been pushing the limits of electron microscopy and spectroscopy since the early 1990s, when he succeeded in applying new technology to determine the composition of individual planes of atoms — an unexpected feat, given the state of the field at that time.(November 2012)
---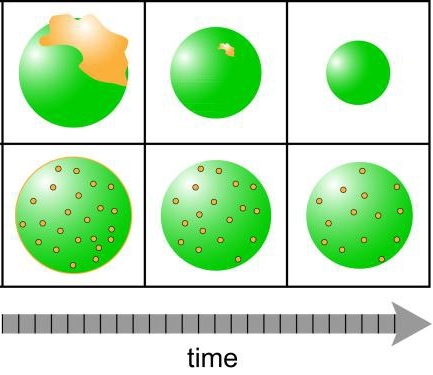 Toxic pollutants, known as polycyclic aromatic hydrocarbons, or PAHs, regulated by environmental agencies, and produced by fossil fuel and biomass burning reach all the way to the Arctic, even though they should decay long before they travel that far. Now, scientists at Pacific Northwest National Laboratory, Imre Consulting, and the University of Washington explain how pollution makes its lofty journey. The team found that atmospherically abundant, carbon-based secondary organic aerosols, or SOAs, allow toxic pollution to tuck inside, providing a vehicle for the pollution's journey to the Arctic. In a one-two punch, the research shows that the PAHs and the SOAs last longer when the pollutants hitch a ride. The new study was published in Environmental Science & Technology. (November 2012)
---
Usually, scientific research means conducting an experiment and then evaluating the results to see whether it worked and for possible discoveries. Now, a new tool specifically for High Resolution Mass Spectrometry developed by scientific data management researchers at Pacific Northwest National Laboratory provides the first step toward achieving real-time analysis.
MSI QuickView provides a critical component to view what's going on during an experiment as it unfolds. This moves the process away from post-experimental analysis toward both active observation and influence. (November 2012)
---
For the first time in Pacific Northwest National Laboratory's 47-year history, the lab is showcasing its science in a print calendar available to the general public. PNNL's 2013 "Discovery in Action" calendar features 13 captivating scientific images along with the stories behind them.
The artwork will also go on the road as part of a traveling exhibit throughout Washington State. Artwork for the Chemical Imaging Initiative is featured in the calendar. (November 2012)
---
EMSL is now accepting applications for its 2013 William R. Wiley Postdoctoral Fellowship. The position closes Nov. 30.
The recipient will serve a one-year term, with the possibility of the fellowship being renewed for a total of three years. The position includes an annual salary of $70,000, and an additional $20,000 may be made available for research support and travel.
EMSL launched the postdoctoral fellowship in 2010 and since then has named three recipients. To hear from the first-ever postdoctoral fellow, watch Ken Lopata talk with EMSL Director Allison Campbell about his experience at EMSL. (Oct-Dec 2012)
---
Congratulations to Dr. Ilke Arslan at Pacific Northwest National Lab and Dr. Eric Stach at Brookhaven National Lab on having their state of electron tomography article published in Nature Materials. The article, "Electron tomography: Seeing atoms in three dimensions," was requested by the journal's editors and appeared online on October 23, 2012. (November 2012)

---
Nanoparticles hundreds times smaller than the width of a hair are more and more a part of people's daily lives. Used in everything from car coatings to clothes to cosmetics, little is known about their safety in the environment. Chemist Robert Hamers at the University of Wisconsin-Madison is leading a multi-institutional effort to gain new understanding about nanomaterials, especially how they get into cells and tiny organisms such as those found in freshwater lakes. Pacific Northwest National Laboratory's Galya Orr has been using and improving high resolution microscopy at EMSL via PNNL's Chemical Imaging Initiative. Orr will be applying the expertise she's gained from studying how nanoparticles enter lung cells found lining our airways. (October 2012)
---
Anyone who owns an electronic device knows that lithium-ion batteries could work better and last longer. Now, scientists examining battery materials on the nano-scale reveal how nickel forms a physical barrier that impedes the shuttling of lithium ions in the electrode, reducing how fast the materials charge and discharge. Published last week in Nano Letters, the research also suggests a way to improve the materials. (October 2012)
---
Researchers have long wanted to "see" chemical, materials, and biochemical processes, in time and space, with enough detail to determine what is occurring at the molecular level. But, they lack the tools to reach this level of clarity. Instead, they must infer what is happening from secondary sources and mathematical models.
The Pacific Northwest National Laboratory is developing the tools and techniques to generate images of chemicals, materials, and biological molecules at the nanometer scale through its Chemical Imaging Initiative. (A nanometer is the length of two hydrogen atoms side by side.)
Achieving molecular-scale clarity requires molecules to be examined in situ—exactly as they are rather than in an intermediate state. Data from two or more experimental tools are needed to adequately describe the molecules, so computational tools are being developed to integrate the data streams.
This level of information will allow scientists and engineers to move from observing chemical, materials, and biological processes to controlling them.
Technical challenges include the following
Develop light-source-based x-ray and vacuum ultraviolet probes coupled with laboratory-based imaging capabilities for three-dimensional tomographic, structural, and element-specific molecular-level probes that would significantly enhance imaging capabilities. Use of these new techniques, for example, could potentially provide an atomic-resolution, in situ "movie" of a functioning photocatalyst or clear characterizations of nanoporous materials and their active sites for batteries and biomolecules.
Develop coupled optical, electron, ion, and scanned probe microscopies to understand chemical and biological transformations and mechanisms. Use of these new techniques could produce useful insights into the mineral-fluid interface in supercritical CO2 or the lifecycle of molecular machinery in microorganisms and microbial communities, among others.