Delivering New Capabilities for In Situ, Molecular-Scale Imaging
Ilke Arslan
The November 18 issue of DOE Pulse featured Dr. Ilke Arslan of Pacific Northwest National Laboratory. The article discusses how this diplomat's daughter, who completed her doctoral degree at the age of 25, applies the fundamentals of physics to change the scientific community's view of nanoparticles. Her research is working towards the goal of providing a clear view of a working catalyst in real time, in three dimensions, and at the atomic scale. Arlsan's imaging work is providing fundamental answers for her teammates in PNNL's Chemical Imaging Initiative and Institute for Integrated Catalysis.
Read the DOE Pulse article "Ilke Arslan: A catalyst for clarity."
(November 2013)
---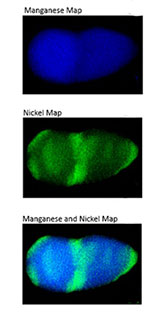 Nickel segregation, cation spatial distribution, and tightly integrated phases occur in pristine battery material
To prevent fading in a layered lithium cathode that has promise for heavy duty transportation use, scientists at Pacific Northwest National Laboratory, FEI Company, and Argonne National Laboratory obtained a definitive view of a pristine cathode. Controversy has encircled this material, a.k.a., LMNO cathode. Some state it's a solid solution; others, a composite. To address this debate, the team used a suite of instruments and determined the material is a composite with tightly integrated phases where the surface contains higher concentrations of nickel, low concentration of oxygen, and electron-rich manganese. Obtaining this type of clarityaround the fundamentals of the cathodeis necessary if scientists are toimprove the cycle life and capacity of the resulting battery.
(November 2013)
---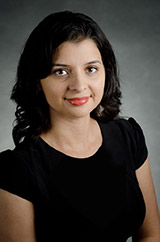 Congratulations to Dr. Ilke Arslan at Pacific Northwest National Laboratory on being chosen to attend the 25th U.S. Kavli Frontiers of Science Symposium. This invite-only National Academy event is designed to foster discussions among high-profile young scientists across a wide range of disciplines. Between 80 and 100 scientists under the age of 45 are asked to attend. They are chosen from those who have prestigious awards and honors or are nominated by Academy members or other participants.
Arslan is well known for bringing her physics expertise to chemical imaging and catalysis. She won research fellowships from the Royal Society USA and the National Science Foundation. She received a U.S. Presidential Early Career Award for Scientists and Engineers. She is also a Microscopy Society of America tour speaker.
(November 2013)
---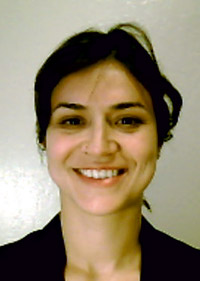 Congratulations to Dr. Patricia Abellan at Pacific Northwest National Laboratory on receiving the Microscopy Society of Spain's Best Ph.D. Thesis in Materials Science award. Her research shows how strain state and interface structure in oxide nanostructured materials grown by a solution route changed the material's superconductivity, magnetism and other properties. She also discovered a novel mechanism for lattice parameter relaxation. She is currently conducting work for the Chemical Imaging Initiative and DOE's EMSL.
(October 2013)
---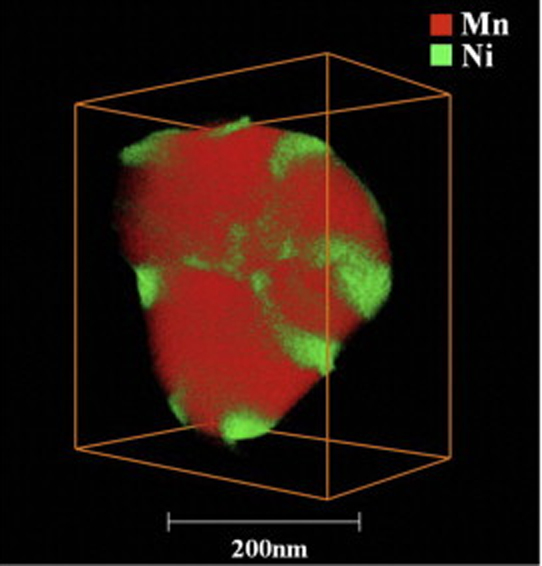 Elements clearly identified on 3D map
A new technique developed by scientists at PNNL and FEI Company lets scientists efficiently resolve elements' locations in three dimensions. The technique combines scanning transmission electron microscopy and X-ray energy dispersive spectrometry with a new detector arrangement and a brighter electron beam. The result: the fastest, cleanest view yet of the elements' placement on a sample smaller than a single blood cell. The team applied this technique to a lithium-rich nickel-based material that could be part of tomorrow's batteries and discovered how nickel was segregating away from other elements on the material's surface. Their results, published in Ultramicroscopy, is the journal's most downloaded article in the last 90 days
(September 2013)
---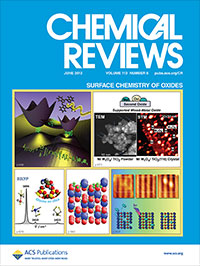 Invited review shows power of scanning tunneling microscopy to understand and control the surface photochemistry of oxide materials
In their invited review, Dr. Michael Henderson and Dr. Igor Lyubinetsky at Pacific Northwest National Laboratory show that scanning probe microscopy techniques, in particular scanning tunneling microscopy, allow scientists to understand fundamental interactions that are key to our energy future.
(July 2013)
---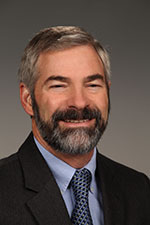 Congratulations to Dr. James De Yoreo, Pacific Northwest National Laboratory, on earning the 2013 American Association for Crystal Growth Award for his foundational insights into the processes underlying biomineralization and biomolecular assembly.
(June 2013)
---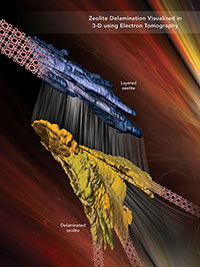 Congratulations to Dr. Ilke Arslan, Pacific Northwest National Laboratory, on having her scientific image chosen as the cover art for the North American Catalysis Society meeting. The image depicts the morphological changes of a layered zeolite before and after delamination. Delamination of stacked zeolite sheets provides more accessible surface area where bulky molecules can react -- important for the petrochemical industry.
(June 2013)
---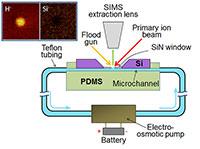 Basic scientific insights of interest for energy storage, environmental cleanup
A unique chemical imaging tool readily and reliably presents volatile liquids to scientific instruments, according to a team including Pacific Northwest National Laboratory. These instruments require samples be held in a vacuum, which is often incompatible with hydrocarbons and other liquids. Designed and built at PNNL, this one-of-a-kind sample holder continuously pumps the liquid through a gold-coated microfluidic chamber. The extremely narrow channel provides high linear velocity at the detection window and helps overcome the liquids' tendency to vaporize. Instruments access the liquid via an open viewing port. Tests with electron microscopes and mass spectrometers prove the device can operate continuously for up to 8 hours. Further, the device handles complex liquids.
(May 2013)
---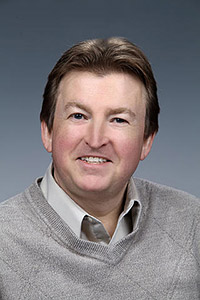 Nigel Browning serves as the Chief Science Officer on PNNL's Chemical Imaging Initiative
A commentary by Dr. Nigel Browning, the Chief Science Officer for the Chemical Imaging Initiative at Pacific Northwest National Laboratory, was recently published in Nature Chemistry. The commentary featured recent four-dimensional electron microscopy (4D-EM) work done by the research group of Nobel prize winning scientist Ahmed Zewail. Browning highlighted the wealth of new information 4D-EM has revealed about how electronic phase transitions occur in individual nanoparticles, how the particle-to-particle variability changes the speed and magnitude of the transition, and how interactions between nanoparticles control the ensemble-average response of the system. The power of 4D-EM to image structural dynamics on the scale of a few hundred nanoseconds and allow the switching dynamics to be quantified makes a unique contribution to the study of nanostructures. A broad class of electronic phase transitions in individual nanomaterials can now be studied directly using 4D-EM.
(April 2013)
---
Researchers have long wanted to "see" chemical, materials, and biochemical processes, in time and space, with enough detail to determine what is occurring at the molecular level. But, they lack the tools to reach this level of clarity. Instead, they must infer what is happening from secondary sources and mathematical models.
The Pacific Northwest National Laboratory is developing the tools and techniques to generate images of chemicals, materials, and biological molecules at the nanometer scale through its Chemical Imaging Initiative. (A nanometer is the length of two hydrogen atoms side by side.)
Achieving molecular-scale clarity requires molecules to be examined in situ—exactly as they are rather than in an intermediate state. Data from two or more experimental tools are needed to adequately describe the molecules, so computational tools are being developed to integrate the data streams.
This level of information will allow scientists and engineers to move from observing chemical, materials, and biological processes to controlling them.
Technical challenges include the following
Develop light-source-based x-ray and vacuum ultraviolet probes coupled with laboratory-based imaging capabilities for three-dimensional tomographic, structural, and element-specific molecular-level probes that would significantly enhance imaging capabilities. Use of these new techniques, for example, could potentially provide an atomic-resolution, in situ "movie" of a functioning photocatalyst or clear characterizations of nanoporous materials and their active sites for batteries and biomolecules.
Develop coupled optical, electron, ion, and scanned probe microscopies to understand chemical and biological transformations and mechanisms. Use of these new techniques could produce useful insights into the mineral-fluid interface in supercritical CO2 or the lifecycle of molecular machinery in microorganisms and microbial communities, among others.